"Painting to me is my world and passion. It's like reading a great book, escaping into a world with no limitation."
Hi everyone! Thank you for visiting Jo Morris Paintings. My name is Jo and I am an artist based in Brisbane Australia. I absolutely love painting and being able to share my paintings and creations with you all.
At the age of 6, 1995, I was diagnosed with Juvenile Dermatomyositis. This rare physical disability caused severe muscle-wasting resulting in me being confined to a wheelchair. With great determination and a passion for art I taught myself to paint and have developed myself as an artist.
I graduated in 2008 from the Brisbane School of Distance Education, and successfully completed a Certificate II in Creative Arts and received many awards including several honour awards and also the 'Endeavour Award'.
Since then I have displayed and sold paintings through Martin Galleries and other local art shows.
I have won a number of awards for my paintings including the 'People's Choice Award' at Art From The Margins. and a Special Artistic Merit Award through the Everylife Art Contest USA.
Thank you for visiting and I hope you enjoy my paintings as much as I do.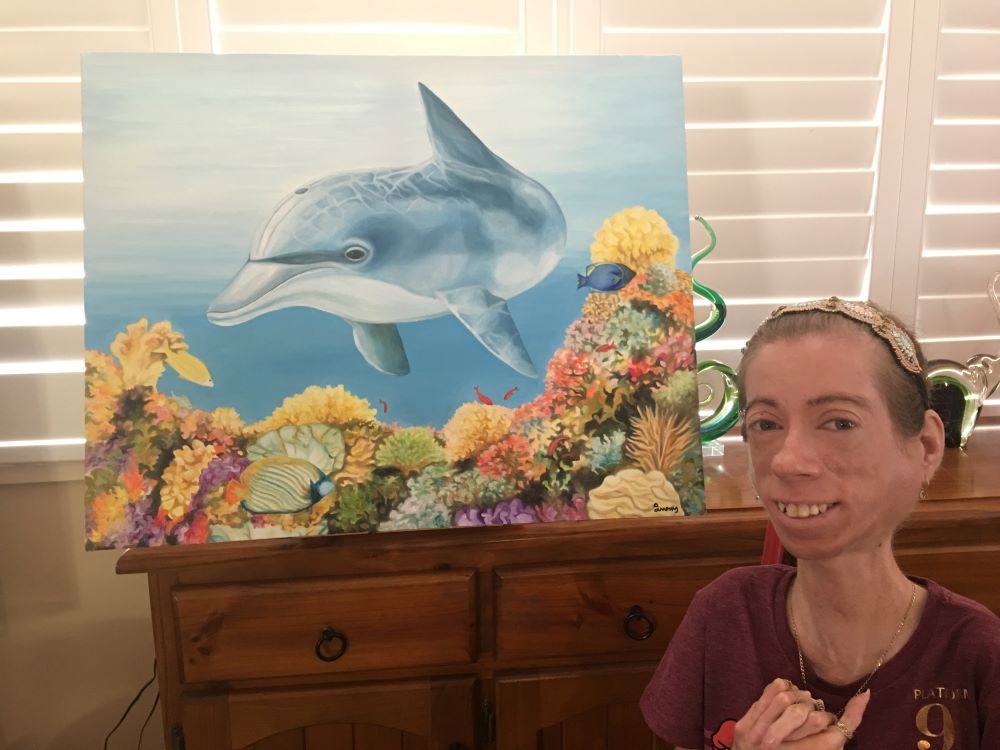 To read more about my disease and diagnoses story view
My Life After Juvenile Dermatomyositis article on Myositis Association Australia
Wheelie Accessible Adventures
Wheelchair Access Reviews By Jo Morris
I also really enjoy traveling and going to new places in Australia with my amazing mum and wonderful best friend Nicky. We are always out and about or planning our next adventure together.
But sometimes traveling isn't as easy when your in a wheelchair, and along the way you run into a lot of obstacles. Even though we would love to be able to just get up and go, we have learnt that we always need to plan ahead as access isn't always available to those in wheelchairs.
A lot of phone calls and emails go into organizing our adventures to ensure access is available. Information online is a great help, but sometimes access information just isn't available for everyone's needs. So we decided to create Wheelie Accessible Adventures to share and review my accessible travels, and to help others on their next wheelie accessible adventure.